All of our customer testimonials are 100% real.

We have shown just a small sample for you below, that will hopefully demonstrate to you if dealing with a similar situation that the whole process is not as stressful as you may think.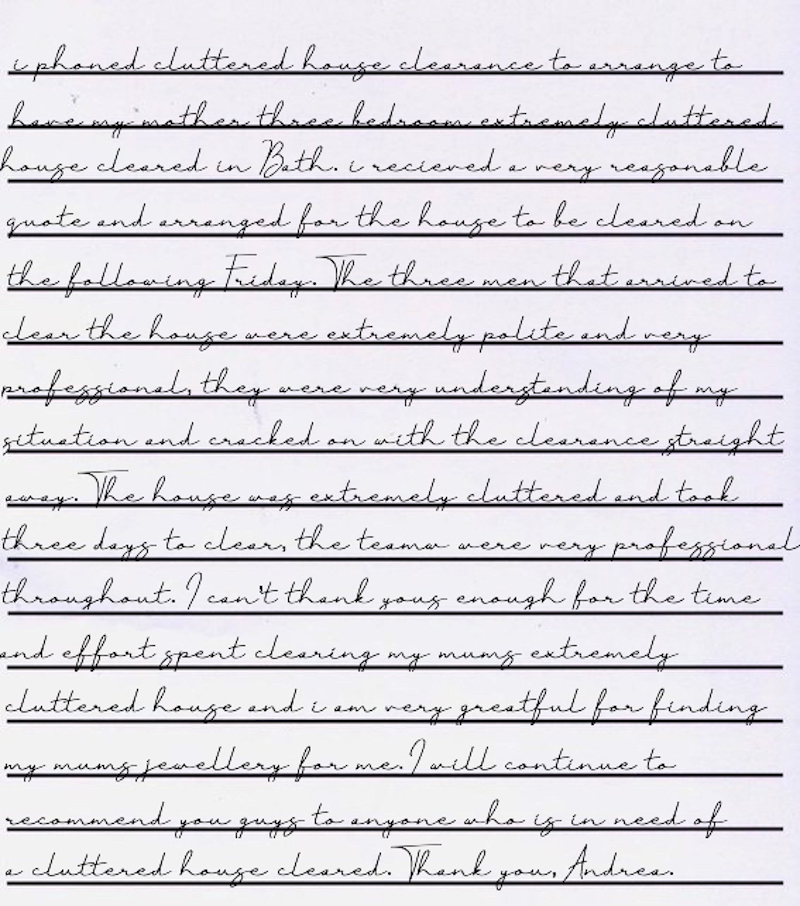 "I phoned Cluttered House Clearance to arrange to have my mothers three bedroom extremely cluttered house cleared in Bath. I received a very reasonable quote and arranged for the house to be cleared on the following Friday. The three men that arrived to clear the house were extremely polite and very professional, they were very understanding of my situation and cracked on with the clearance straight away. The house was extremely cluttered and took three days to clear, the team were very professional throughout. I can't thank you's enough for the time and effort spent clearing my mums extremely cluttered house and I am very grateful for finding my mums jewellery for me. I will continue to recommend you guys to anyone who is in need of a cluttered house cleared. Thank you. Andrea"

Keep scrolling down the page for many more customer comments
FREE Hoarded House Clearance Asset Recovery Service…

Our pre house clearance asset recovery service is 100% FREE. If we find NOTHING in the property then we ourselves expect nothing, no charges, no fees. We only get paid if we locate items of value and of course if you ask us to undertake the actual clearance after the search has been completed.

Do you qualify for a FREE house clearance, a complete house clearance that costs you no money?

Before calling any house clearance company, please take a minute or two to read our page about our FREE Hoarded Houses Clearance Asset Recovery Service.
---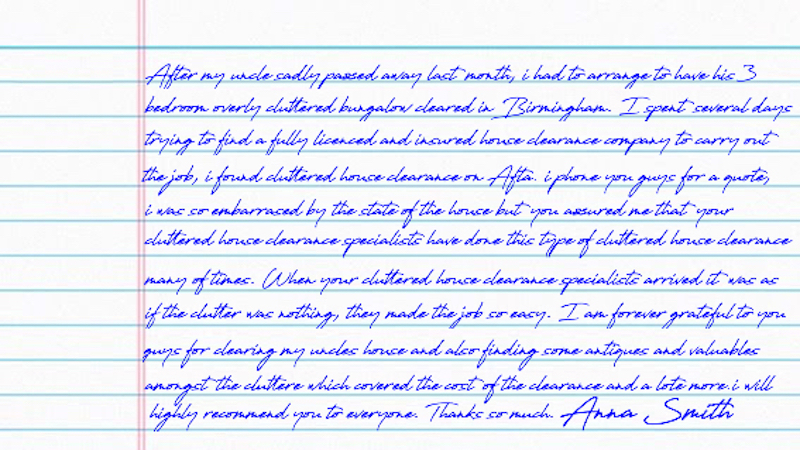 "After my uncle sadly passed last month, I had to arrange to have his three bedroom overly cluttered bungalow cleared in Birmingham. I spent several days trying to find a fully licensed and insured house clearance company to carry out the job, i found Cluttered House Clearance on AFTA. I phoned you guys for a quote, i was so embarrassed by the state of the house but you assured me that your cluttered house clearance specialists have done this type of cluttered house clearance many of times. When your cluttered house clearance specialists arrived it was if the clutter was nothing, they made the job so easy. I am forever grateful to you guys for clearing my uncles house and also finding some antiques and valuables amongst the clutter which covered the cost of the clearance and a lot more. I will highly recommend you to anyone. Thanks so much. Anna Smith."
---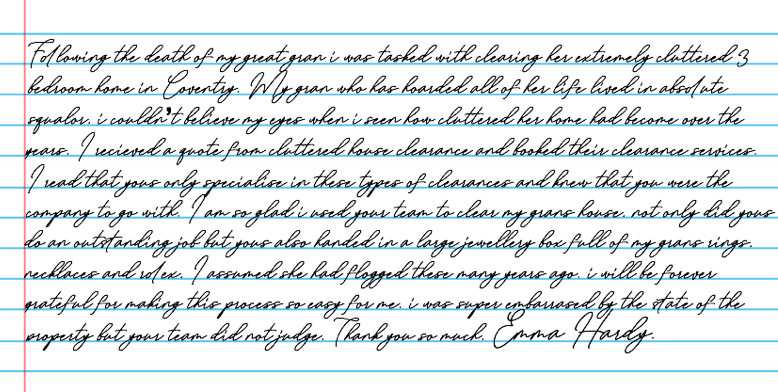 "Following the death of my great gran I was tasked with clearing her extremely cluttered three bedroom home in Coventry. My gran who has hoarded all of her life lived in absolute squalor, i couldn't believe my eyes when i seen how cluttered her home had become over the years. I received a quote from Cluttered House Clearance and booked their clearance services. I read that yous only specialise in these types of clearances and knew that your were the company to go with. I am so glad i used your team to clear my grans house, not only did you's do and outstanding job but you's also handed in a large jewellery box full of my grans rings, necklaces and her Rolex, i assumed she had flogged these many years ago. I will be forever grateful for making this process so easy for me, i was super embarrassed by the state of the property but your team did not judge. Thank you so much. Emma Hardy."
---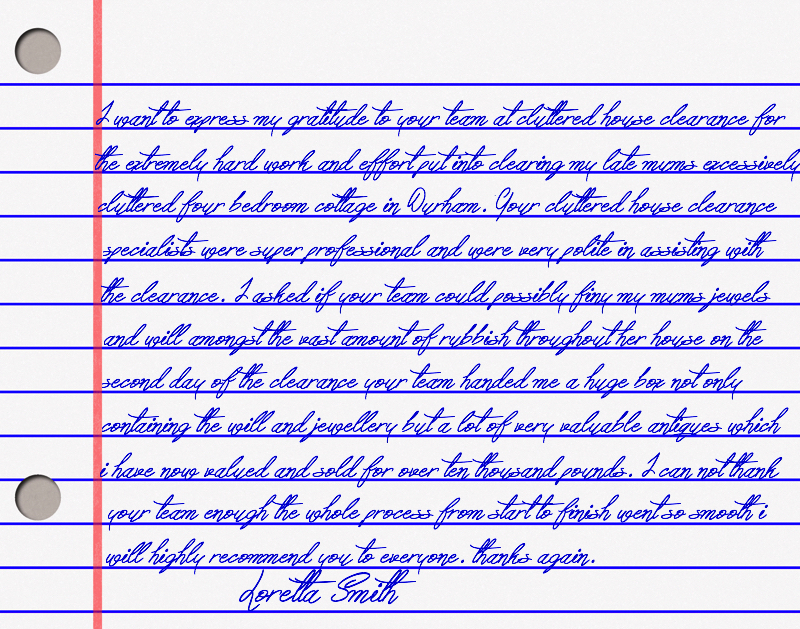 "I want to express my gratitude to your team at Cluttered House Clearance for the extremely hard work and effort put into clearing my late mums excessively cluttered four bedroom cottage in Durham. Your house clearance specialists were super professional and were very polite in assisting with the clearance. I asked if your team could possibly find my mums jewellery and will amongst the vast amount of rubbish throughout her house, on the second day of the clearance your team handed me a huge box, not only containing the will and jewellery but a lot of very valuable antiques which i have now had valued and sold for over £10,000. I can not thank your team enough, the whole process from start to finish went so smooth, I will highly recommend you to everyone. Thanks again, Loretta Smith."
---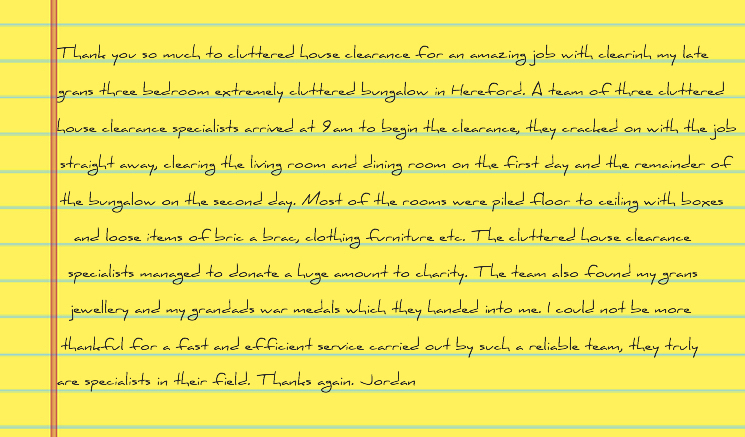 "Thank you so much to Cluttered House Clearance for an amazing job with clearing my late grans three bedroom extremely cluttered bungalow in Hereford. A team of three cluttered house clearance specialists arrived at 9 am to begin the clearance, they got on with the job straight away, clearing the living room and dining room on the first day and the remainder of the bungalow on the second day. Most of the rooms were piled floor to ceiling with boxes and loose items of bric a brac, clothing furniture etc, the cluttered house clearance specialists managed to donate a huge amount to charity. The team also found my grans jewellery and my grandads war medals which they handed into me. I could not be more thankful for a fast and efficient service carried out by such a reliable team, they truly are specialists in their field. Thanks again. Jordan."
---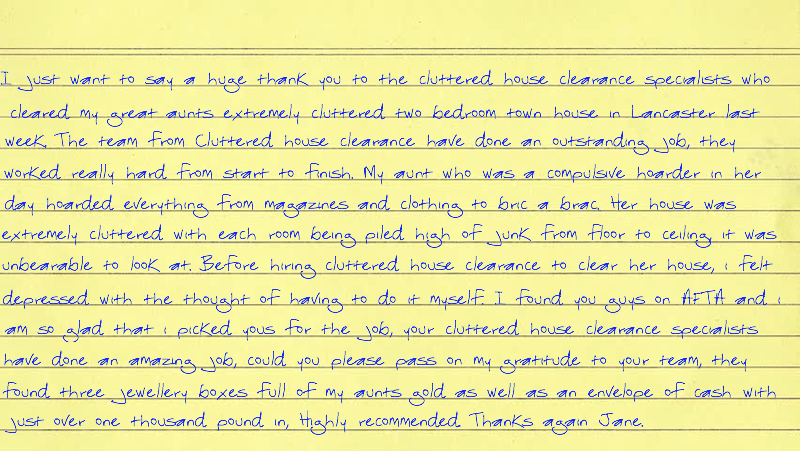 "I just want to say a huge thank you to the cluttered house clearance specialists who cleared my great aunts extremely cluttered two bedroom town house in Lancaster last week. The team from Cluttered House Clearance have done an outstanding job, they worked really hard from start to finish. My aunt who was a compulsive hoarder in her day hoarded everything from magazines, clothing to bric a brac. Her house was extremely cluttered with each room being piled high of junk from floor to ceiling, it was unbearable to look at. Before hiring cluttered house clearance to clear her house, i felt depressed with the thought of having to do it myself. I found you guys on AFTA and i am so glad that i picked yous for the job, your cluttered house clearance specialists have done an amazing job, could you please pass on my gratitude to your team, they found three jewellery boxes full of my aunts gold jewellery as well as an envelope of cash with just over one thousand pound in, highly recommended. Thanks again, Jane."
---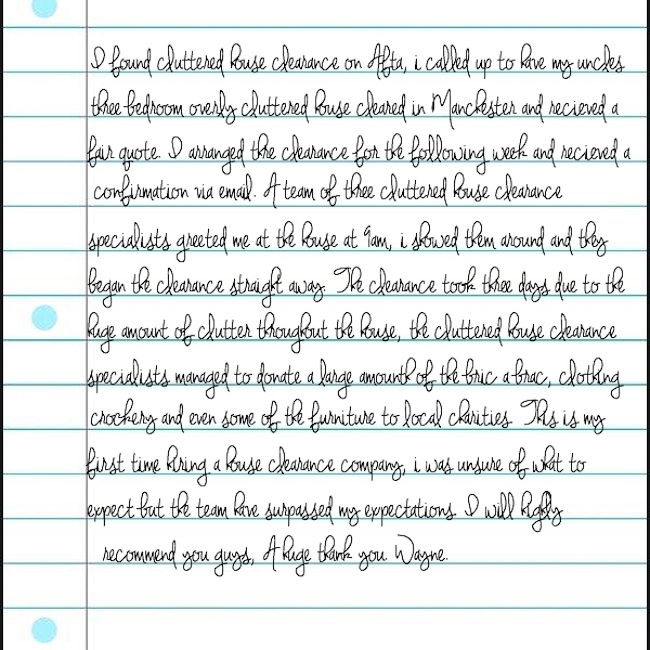 "I found Cluttered House Clearance on AFTA, i called up to have my uncles three bedroom overly cluttered house cleared in Manchester and received a fair quote. I arranged the clearance for the following week and received a confirmation via email. A team of three cluttered house clearance specialists greeted me at the house at 9am, i showed them around and they began the clearance straight away. The clearance took three days due to the huge amount of clutter throughout the house, the cluttered house clearance specialists managed to donate a large amount of the bric a brac, clothing, crockery and even some of the furniture to the local charities. This is my first time hiring a house clearance company and i was unsure of what to expect but the team have surpassed by expectations. I will highly recommend you guys. A huge thank you. Wayne."
---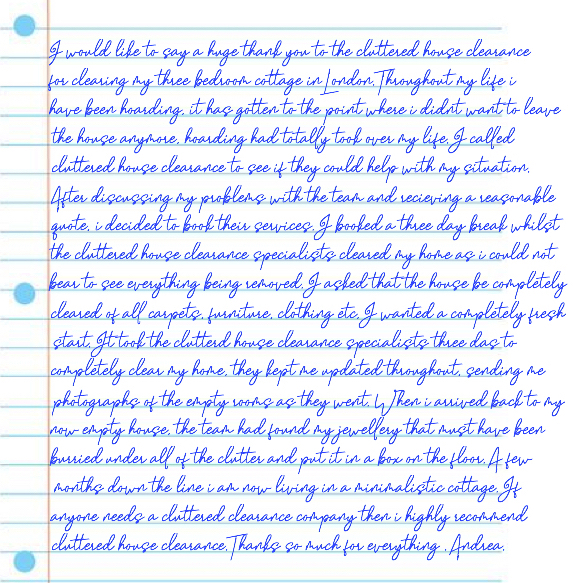 "I would like to say a huge thank you to the cluttered house clearance specialist team from Cluttered House Clearance for clearing my three bedroom cottage in London. Throughout my life I have been hoarding, it had gotten to the point where I didn't want to leave the house anymore, hoarding had totally took over my life. I called Cluttered House Clearance to see if they could help with my situation. After discussing my problems with them and receiving a reasonable quote, i decided to book their services. I booked a three day break whilst the cluttered house clearance specialists cleared my home as I could not bear to see everything being removed. I asked that the house be completely cleared of all carpets, furniture, clothing etc, I wanted a completely fresh start. It took the cluttered house clearance specialists three days to completely clear my home, they kept me updated throughout sending me photographs of the empty rooms as they went. When I arrived back to my now empty house, the team had found my jewellery that must have been buried under all of the clutter and put it in a box on the floor. A few months down the line I am now living in a minimalistic cottage. If anyone needs a cluttered clearance company then I highly recommend Cluttered House clearance. Thanks so much for everything. Andrea."
---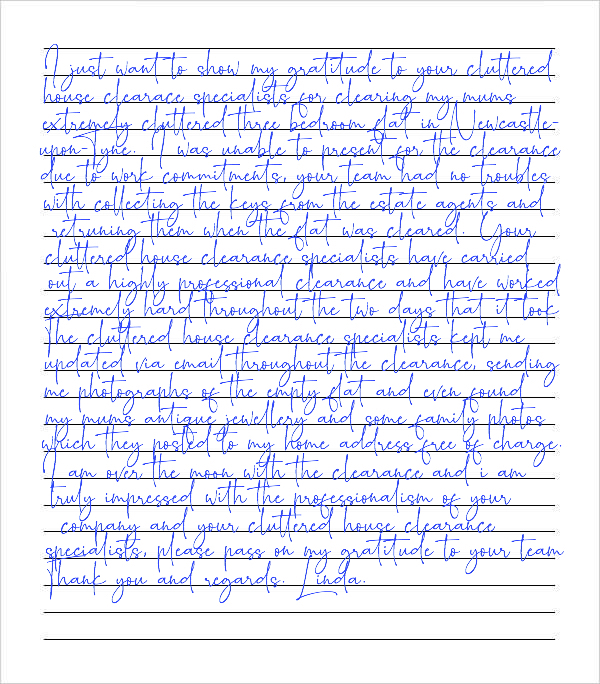 "I just want to show my gratitude to your cluttered house clearance specialists for clearing my mums extremely cluttered three bedroom flat in Newcastle-upon-Tyne. I was unable to be present for the clearance due to work commitments, your team had no troubles with collecting the keys from the estate agents and returning them when the flat was cleared. Your cluttered house clearance specialists have carried out a highly professional clearance and have worked extremely hard throughout the two days that it took. The Cluttered house clearance specialists kept me updated via email throughout the clearance, sending me photographs of the empty flat and even found my mums antique jewellery and some family photographs which they posted to my home address free of charge. I am over the moon with the clearance and i am truly impressed with the professionalism of your company and your cluttered house clearance specialists, please pass on my gratitude to your team. Thank you and regards, Linda."
---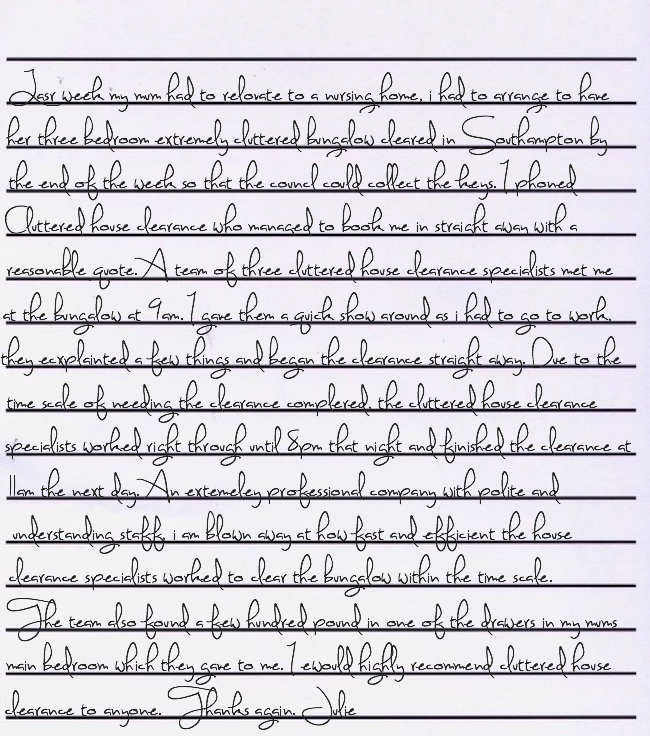 "Last week my mum had to relocate to a nursing home, i had to arrange to have her three bedroom extremely cluttered bungalow cleared in Southampton by the end of the week so that the council could collect the keys. I phoned cluttered house clearance who managed to book me in straight away with a reasonable quote. A team of three cluttered house clearance specialists met me at the bungalow at 9am, i gave them a quick show around as i had to go to work, they explained a few things and began the clearance straight away. Due to the time scale of needing the clearance completed, the cluttered house clearance team worked right through until 8pm that night and finished the clearance at 11am the next day. An extremely professional company with polite and understanding staff, i am blown away at how fast and efficient the cluttered house clearance specialists worked to clear the bungalow within the time scale. The team also found a few hundred pound in one of the drawers in my mums main bedroom which they gave to me. I would highly recommend Cluttered house clearance to anyone needing a house clearance. Thanks again, Julie."